When gifting "General Personal Effects" (that includes all personal effects that are not otherwise created as separate assets and gifted to someone else) to more than one person (including a class gift), you have "Distribution" options to select: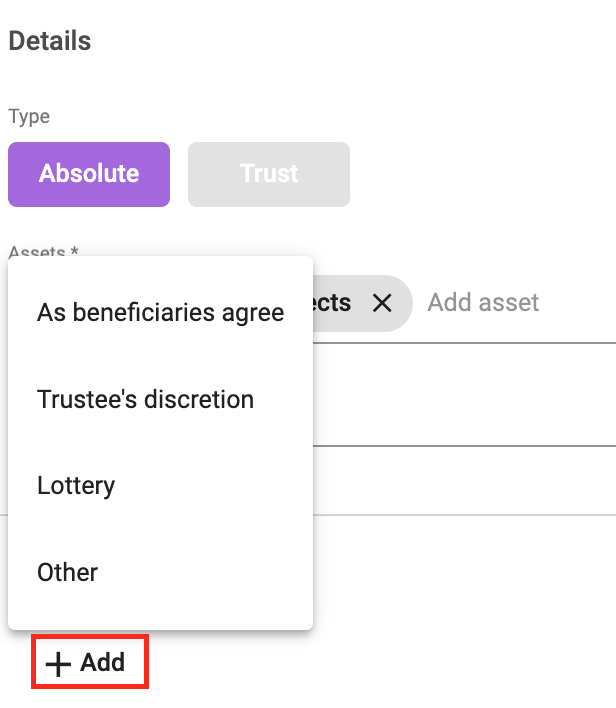 As beneficiaries agree - this gives the beneficiaries the right to come up with their own distribution of items if they all agree

"Allow surviving beneficiaries" means that the surviving beneficiaries can come up with their own distribution if they all agree. Any children of a predeceased beneficiary would have no say in the distribution
"Require all beneficiaries to be alive" means that the right to come up with their own distribution will not be allowed if any of the beneficiaries have predeceased. In that case, the next option will be applicable.

Lottery – the Personal Effects are distributed by a lottery system. This is often included with "As beneficiaries agree" in case they can't agree.

Counted against share means that the items that are selected are "bought" from the estate ensuring that the values are equalized. This makes sense if the Personal Effects Beneficiaries are also the residuary beneficiaries and if there are items of greater financial value
The order of selection

Trustee's discretion – the trustee can decide how to distribute the Personal Effects among the group of potential beneficiaries. In that case, there are non-binding "precatory" wishes that automatically get populated relating to a future wish list, the needs and wishes of the beneficiaries and encouraging the trustee to try and treat the beneficiaries relatively equally.
Other - If you want a specific method of distribution that isn't covered by any of the other options, you can select other and type in your own details.
Note: If nothing is selected, there is a default "trustee discretion" clause that is automatically populated in case all other methods fail or the plan didn't name beneficiaries in all scenarios.