What is a User?
A user is anyone associated with a firm who needs their own set of login credentials to access e-State Planner.
When should I add a new user?
If you would like another individual at your firm, whether it be a law clerk, lawyer or administrator, to have their own separate account login, you will need to add them as a new user. This will allow you to access your account at the same time as another individual from your firm. This will also allow you to select them as a witness in the app so their name, address and occupation will print on the signing page.
How do I add a new user?
Click the "People" tab on the main page of your account. If it is hidden, click the three lines in the top left corner to reveal. Ensure you are on the Users tab.
Click "+Add" and enter the new user's first name, last name and email. If you are appointing them as an administrator, check the box. This will allow them to see all other clients in your firm's client list.
If this user is going to be witnessing any documents, you should also fill out the "Occupation" and "Address" fields.
Click "Add" to add the user to the system. The user will then receive a link inviting them to e-State Planner with a prompt to create a password to use for their login credentials.
Note: If the new user did not receive an email, please ensure they have checked their spam inbox. If they still did not receive the email, please contact us at support@e-stateplanner.com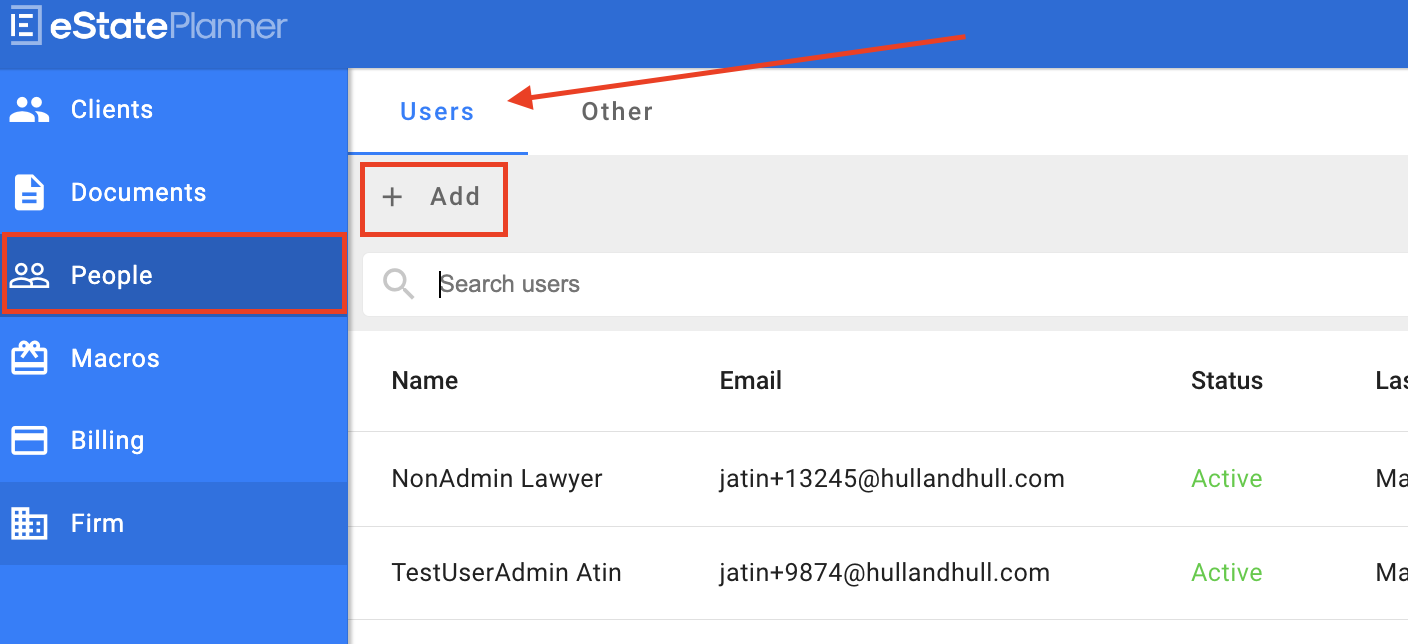 Is there a cost to adding new users?
There is a monthly cost of $99 per each additional user added to a firm account. This cost is incurred once the new user accepts their invitation, creates their login credentials and accesses their account. Visit our Pricing Page on our website to view our up-to-date pricing details.
Access to all firm's clients or limited Access only to own clients.
Administrators can also give access to all the firms clients to one or more non-Administrator Users. To do this, an Administrator opens the User's page (clicking on the User's name or the ... opposite their name) and select "Access all clients". When that User logs back in, they will be able to view all of the firm's clients.
To disable access, just uncheck the "Access all clients" box.