What is the Spouse Compare Feature
When creating mirror wills for spouses, it is crucial to ensure that the clauses in each will match. To catch any minor discrepancies, we have developed the Spouse Compare feature. This feature compares one spouse's will to the other and identifies any differences, highlighting them for your attention. For example, if one spouse has included a clause regarding general personal effects while the other hasn't, the feature will flag this difference. This allows you to include the clause in the other spouse's will, ensuring consistency in both wills.
How to Use the Spouse Compare Feature
To use the spouse compare feature, follow these steps:
Click on the client's name to access their profile (either spouse client can be selected).
In the top right corner, click on the button with two opposite facing errors.
Sections with a green checkmark indicate that both wills match, while sections with a yellow "x" indicate differences. Click on a section to reveal subsections for clearer visibility of the disparities.
If all sections display green checkmarks, it indicates that both spouses' wills match, ensuring the generation of true mirror wills when you proceed to produce the documents.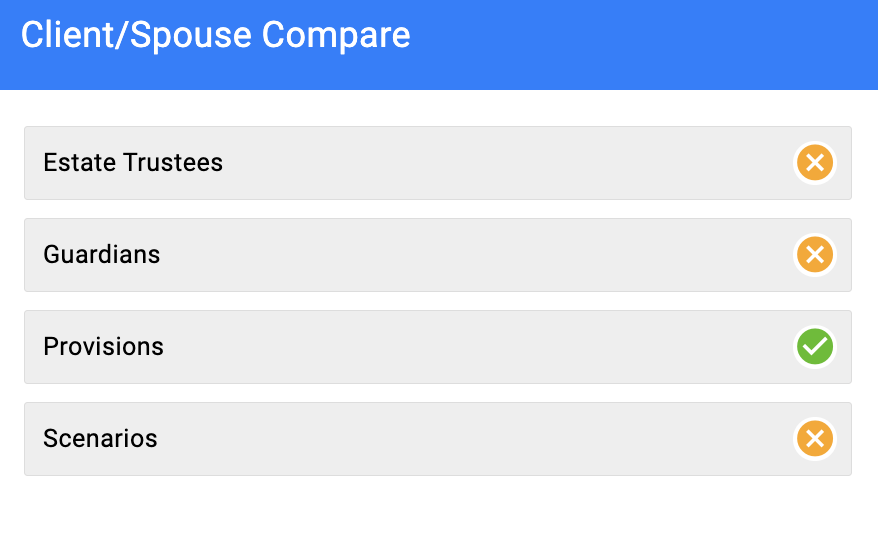 Please note that loyalty points, pets, RESP, and personal effect assets do not have to be jointly or partially owned by the spouse to result in a match in the system. For instance, if Spouse 1 gifts their solely owned RESP as an initial gift and Spouse 2 does the same, even though they are different assets, they will still result in the same clause appearing in each will, thus being recognized as a match in the system.